LAY FLAT HOSE
Vinalflow brand which in our opinion is the highest quality lay flat hose in the industry. Ideal for water pumps, submersible pumps, trash pumps and centrifugal water pumps.
Available in all sizes listed in picture.
Call or email us to place your measurement in feet.
Price Per Foot:
1": $1.00
1.25": $1.25
1.5": $1.50
1.75": $1.75
2": $2.00
2.25": $2.25
2.5": $2.50
2.75": $2.75
3": $3.00
3.25": $3.25
3.50": $3.50
3.75": $3.75
4": $4.00
SHIPPING:
USA: varies
Canada: varies
Australia: varies
Europe: varies
Germany: varies
United Kingdom: Varies
New Zealand:Varies
Japan: Varies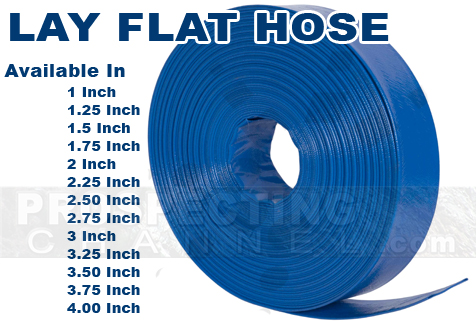 Ships to USA, Canada, Australia, New Zealand, Europe, UK, Ireland, Germany & Japan CALL OR EMAIL US YOUR MEASUREMENTS & ORDER

Questions? Call Our Customer Service: (760)936-3543
Combined Shipping? Yes! Give us a call and let us know which items you would like. We will then send you an invoice with all your items and a combined shipping total to your email. We can also do this over the phone if you like! You can also email us a list of items you prefer. email: sales@prospectingchannel.com
We ship same day or next business day. USA payment and available via PAYPAL. Other shipping available worldwide paid via International Money Orders and International Cashiers Cheques. Contact us via e-mail for any international shipping questions.
Orders ship out next business day or same business day.
Money Orders/Checks also accepted.
Send Money Orders/Checks Payments to:
Adventures In Prospecting Mining Supplies • 2111 Montgomery St • Oroville CA • 95965