HEX PAN
The Hex Pan design combines a coarse and fine gold recovery trap plus "V" traps with it's unique hexagon shape.
First, use the large riffle traps and pan out your material. Then, bring the material from the large traps to the small traps by tilting the material to the small riffles and pan down the remaining material. Finally, move the material from the small traps to a "V" trap in one of the corners of the pan and easily pour your gold from the "V" trap down the grove.
Available in: Blue, Green and Black
Top Diameter: 12
Bottom Diameter: 7 Inches
$19.95
SHIPPING:
USA: $13.95
Canada: $29.95
Australia: $39.95
Europe: $37.95
Germany: $37.95
New Zealand:$39.95
Japan: $39.95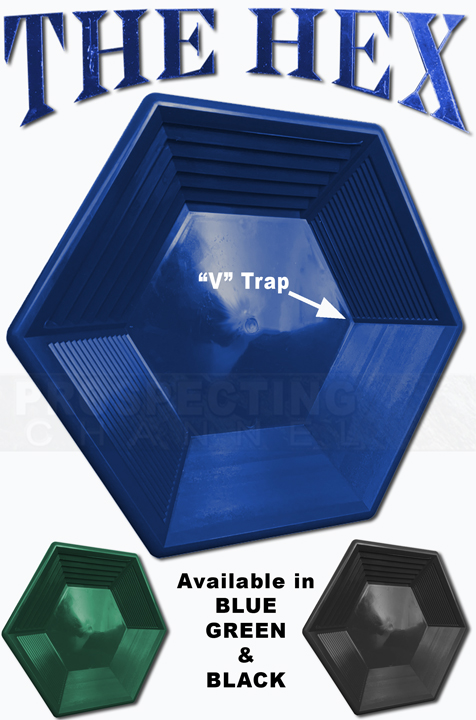 Shipping prices to USA($13.95). Canada($29.95). Europe, UK, Ireland, Germany ($37.95). Australia, New Zealand & Japan($39.95)

Questions? Call Our Customer Service: (760)936-3543
We ship same day or next business day. USA payment and available via PAYPAL. Other shipping available worldwide paid via International Money Orders and International Cashiers Cheques. Contact us via e-mail for any international shipping questions.
Orders ship out next business day or same business day.
Money Orders/Checks also accepted.
Send Money Orders/Checks Payments to:
Adventures In Prospecting Mining Supplies • 2111 Montgomery St • Oroville CA • 95965