KEENE GOLD SUCKER Super Suction Tube
Allows you to suck material from between bedrock cracks below water surface.
Short design length allows you to be able to fit in your back pack. 25 Inches in length when handle is pushed in. (17 inches when nozzle tip is removed makes it easy to pack).
1. Use it above water and suck out shallow water cracks.
2. Swim underwater, find cracks, and suck them out.
Pull plated steel handle to create suction then pull off bottom nozzel and pour material into a gold pan then pan it out.
Nuggets are found this way and small gold too.
PVC and Plated Steel Construction
$39.95 each
SHIPPING
USA: $10.95 USD
Canada: $21.95 USD
Australia, NewZealand, Europe, UK, Ireland, Germany, Japan: $34.95 USD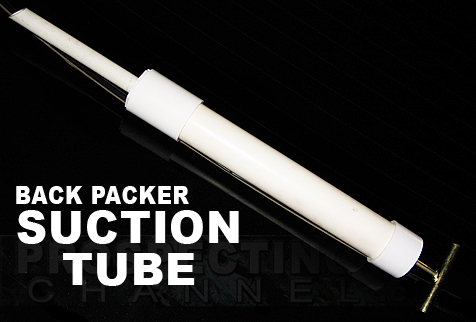 Ships to USA($10.95), Canada($27.95), Australia($39.95), New Zealand($39.95), Europe($39.95), UK($39.95), Ireland($39.95), Germany($39.95) & Japan
($39.95)
$41.95 $39.95USD plus shipping

Questions? Call Our Customer Service: (760)936-3543
We ship same day or next business day. Payment available via Credit Card through PAYPAL. Worldwide Shipping available. Credit Card through PAYPAL, International Money Orders and International Cashiers Cheques. Contact us via e-mail for any international shipping questions.
Money Orders/Checks also accepted.
Send Money Orders/Checks Payments to:
Adventures In Prospecting Mining Supplies • 2111 Montgomery St • Oroville CA • 95965