CRAFTSMANSHIP QUALITY FOLDING SLUICE by Jobe
This sluice is slick! Folds out from a 9" x 14" x 4" to a formidable 9 Inch by 50 Inch stream sluice that weighs only 7.4 pounds!
Perfect for the backpacker or prospector who has space issues for traveling and storage, but wants the increased production of a larger sluice.
Carry strap is removable for when sluice is in action and extends 54" so that it can be used as a hand or shoulder strap.
Riffles feature Uni-Body construction that are light weight yet very strong. Riffles are precision laser cut from a single piece of 18 gauge steel and then formed into ultra light, sturdy steel riffels. Zinc plated for long rust-free service. Box is constructed of rust free aluminum. Expanded aluminum fits under riffles are also rust free, light wieght and durable.
Superb craftsmanship and design allows sluice body to rigidly lock in place when sluice is unfolded. This takes care of the most common complaint about other models that fold up or bend when you tried to set them up in the stream.
Ready to ship.
$139.95 each
SHIPPING:
USA: $29.95
Canada: $54.95
Australia: $79.95
Europe: $69.95
Germany: $69.95
United Kingdom: $69.95
New Zealand:$79.95
Japan: $79.95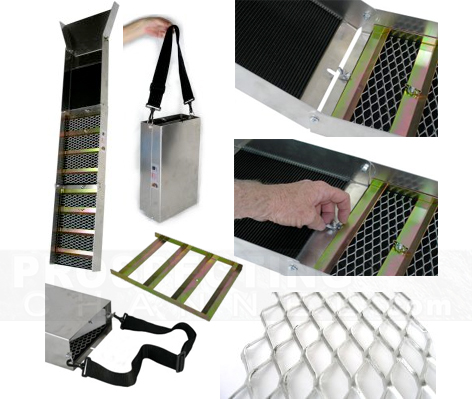 Ships to USA($29.95), Canada($54.95), Australia($79.95), New Zealand($79.95), Europe($69.95), UK($69.95), Ireland($69.95), Germany($69.95) & Japan($79.95) PRICE ONLY VALID ONLINE
$149.95 $139.95USD plus shipping

Questions? Call Our Customer Service: (760)936-3543
Combined Shipping? Yes! Give us a call and let us know which items you would like. We will then send you an invoice with all your items and a combined shipping total to your email. We can also do this over the phone if you like! You can also email us a list of items you prefer. email: sales@prospectingchannel.com
We ship same day or next business day. USA payment and available via PAYPAL. Other shipping available worldwide paid via International Money Orders and International Cashiers Cheques. Contact us via e-mail for any international shipping questions.
Orders ship out next business day or same business day.
Money Orders/Checks also accepted.
Send Money Orders/Checks Payments to:
Adventures In Prospecting Mining Supplies • 2111 Montgomery St • Oroville CA • 95965