The Flusher Nozzle
Blow out the material wedged in the cracks! Provides strong stream of water to help break up decomposing bedrock. Features 11 inch durable metal tubing that allows you to aim in areas that are dificult to reach.
Turn the flow on by bending the rubber flex hose. Turns off when flex hose is not being bent. Flex hose has just the right flexability for easy on and off water flow.
Threads on to standard hoses. Gasket helps prevent leakage for maximum presure. Quality Construction.
Total Length: 15 Inches
$24.95 Each
Shipping
USA: $5.95
Canada: $6.95
Australia, NewZealand, Europe, UK, Ireland, Germany, Japan: $17.50 USD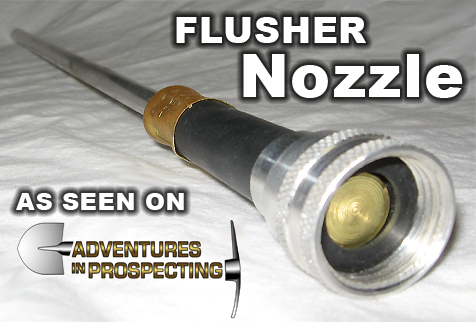 Questions? Call Our Customer Service: (760)936-3543
We ship same day or next business day. Payment available via Credit Card through PAYPAL. Worldwide Shipping available. Credit Card through PAYPAL, International Money Orders and International Cashiers Cheques. Contact us via e-mail for any international shipping questions.
Money Orders/Checks also accepted.
Send Money Orders/Checks Payments to:
Adventures In Prospecting Mining Supplies • 2111 Montgomery St • Oroville CA • 95965