Econo Sieve
Fits perfect on top of standard 5 gallon bucket.
Sturdy Construction. Great for shaking material through.
Break up hard packed material like clay when material is moved back and forth over pvc mesh.

Maximize your gold recovery with this essential prospecting tool.
$10.00 EACH
Shipping
USA: $8.95 USD
Canada: $15.95 USD
Australia, NewZealand, Europe, UK, Ireland, Germany, Japan: $24.95 USD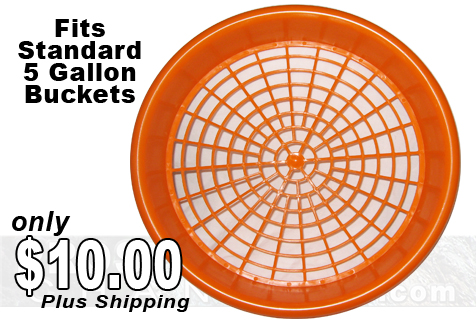 Ships to USA, Canada, Australia, New Zealand, Europe, UK, Ireland, Germany & Japan

Questions? Call Our Customer Service: (760)936-3543
We ship same day or next business day. Payment available via Credit Card through PAYPAL. Worldwide Shipping available. Credit Card through PAYPAL, International Money Orders and International Cashiers Cheques. Contact us via e-mail for any international shipping questions.
Money Orders/Checks also accepted.
Send Money Orders/Checks Payments to:
Adventures In Prospecting Mining Supplies • 2111 Montgomery St • Oroville CA • 95965