GOLD Pan Clean Up Kit
ALL YOU REALLY NEED TO CLEAN UP YOUR PAN IN PUT IN A VIAL!
INCLUDES:
10 inch Black PVC Gold Pan with Riffles to trap the gold. Gold stands out well for visibility on this durable black pan.
GOLD MAGNET to remove the black sand (iron) from your gold concentrate. This magnet greatly reduces your panning time because it removes the heavy iron that tends to stay in your pan and get caught up with your gold. Removes the iron and leaves behind your gold. (see pic)
Snuffer Bottle: Squeeze to suck up small gold pieces out of your pan. Put gold into vial with your snuffer after you suck it out by tipping it into vial.
One ounce vial to place your gold!
SHIPING RATES
USA: $3.95
CANADA SHIPPING: $8.95 USD
AUSTRALIA/NEW ZEALAND/JAPAN SHIPPING: $22.95 USD
EUROPE, UK, GERMANY SHIPPING: $19.95 USD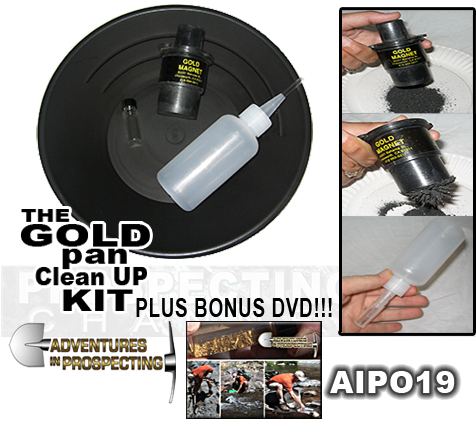 Ships only to USA, Canada, Australia, New Zealand, Europe, UK, Ireland, Germany & Japan

Questions? Call Our Customer Service: (760)936-3543
We ship same day or next business day. Payment available via Credit Card through PAYPAL. Worldwide Shipping Available. Contact us via e-mail for any international shipping questions.
Money Orders/Checks also accepted.
Send Money Orders/Checks Payments to:
Adventures In Prospecting Mining Supplies • 2111 Montgomery St • Oroville CA • 95965