BUCKET WOBBLER + bonus SNAPPY GRIP offer
Save Time, Process More Material, Dig & Classify All in one action, Stop breathing dust, and Save your aching back!
Yes, this simple product is the best piece of equipment to hit the market since.....
Only requires one action: You put your material in your classifier with your shovel that is sitting on top of your bucket. Your bucket has the Wobbler attached to the bottom of it. Now, that you have the material in your classifier, on top of your bucket with the Wobbler attached on the bottom, put your shovel in the classifier and move your shovel back and forth causing the bucket to Wobble thus shaking the material through the classifier into your bucket.
You no longer need to bend down to classify (with your aching back) and shake the bucket while you breath the dust coming off the material because you are standing with your shovel in hand using the shovel to shake the bucket!
Saves time and you process more material because you do not have to switch to bending down and shaking. Just do it all at once, shovel and classify!
Durable PVC material. The Bucket Wobbler you receive will be the Tan colored PVC in the picture.
Attaches to any standard 5 gallon bucket bottom.
ONE SNAPPY GRIP BUCKET HANDLE ALSO IS INCLUDED WITH THIS OFFER!!!
$17.95
SHIPPING:
USA: $10.95
Canada: $16.95
Australia: $29.95
Europe: $24.95
Germany: $24.95
United Kingdom: $24.95
New Zealand:$29.95
Japan: $29.95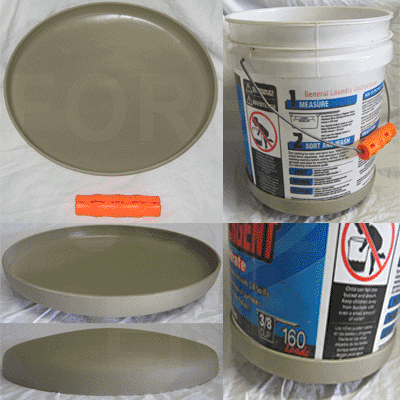 Ships to USA($10.95), Canada($16.95), Australia($29.95), New Zealand($29.95), Europe($24.95), UK($24.95), Ireland($24.95), Germany($24.95) & Japan($29.95) OFFER ONLY VALID ONLINE
$19.95 $17.95USD plus shipping

Questions? Call Our Customer Service: (760)936-3543
Combined Shipping? Yes! Give us a call and let us know which items you would like. We will then send you an invoice with all your items and a combined shipping total to your email. We can also do this over the phone if you like! You can also email us a list of items you prefer. email: sales@prospectingchannel.com
We ship same day or next business day. USA payment and available via PAYPAL. Other shipping available worldwide paid via International Money Orders and International Cashiers Cheques. Contact us via e-mail for any international shipping questions.
Orders ship out next business day or same business day.
Money Orders/Checks also accepted.
Send Money Orders/Checks Payments to:
Adventures In Prospecting Mining Supplies • 2111 Montgomery St • Oroville CA • 95965